MOHAMMAD RAFI – The Enigma !
This article is written by Mr. Vinod Kapoor, ex Sr.Director-Doordarshan. Email: vinodkapoor5@rediffmail.com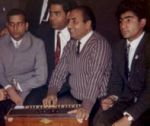 He needs no introduction nor does one have to extol the greatness he possessed. Millions still get mesmerized by the unadulterated mellifluous renderings, Mohammad Rafi has left behind. I often wonder, what would have happened, had phonographic system not been invented? Generations would have not marveled the great sounds of well cultivated voices and sought eternal pleasure out of them. It would be big loss. Music lovers miss out on Mian Tansen, Bach and Mozart but that's history.
I am part of the golden era of Hindi film music, which till date captivates for its blending of soulful poetic expressions, situations, compositions and range and quality of singers. There were no regular film events, plethora of innocuous awards ceremonies as seen now and thankfully television had not taken birth. Despite the limited coverage of Radio, musicians could sway nations speak of their pulsating quality. It was rare one could see these personalities and their performances so very common now.
It was a Ghalib function on big scale held at the National Stadium, Delhi in the late sixties. And it had wide representation of the film industry then. Somehow, I got an opportunity to go backstage and saw all the leading names. But as a music buff, I was more endeared to the composers and singers who had enjoined the festivities.  It was a treat to see Madan Mohan, Shankar Jaikishan, Roshan and Naushad Saheb mingling and preparing their items. Soon Ameen Sayani, the effervescent emcee called for Shankar Jaikishan followed by Mohd.Rafi. It was here I heard him sing, Badan pe Sitare lapete hue…followed by Jaane Chaman, Shola Badan accompanied by Usha Khanna. He came back for Madan Mohan to take stage then who was followed by Talat Mahmood and Mala Sinha. Perhaps few would know that she was an accomplished singer! Much later, I learnt that before becoming an actress she used to sing at AIR.
At the backstage, my escort introduced me to Rafi Saheb. I was so much in awe of the man, I could not utter anything. He held my hand and started talking to my friend. Soon he heard Talat Saheb singing on the stage, Phir Wohi Sham, Wohi Gham… and was lost in the rendition. Then turning towards my friend he muttered in chaste Punjabi," Wah, Kinna sur wich gaande ne Talat Sahib…wah "(Wow, how soulful Talat sahib sings…).  That was the quality of Mohammad Rafi. Perched on the high pedestal of musical glory, san iota of envy and competition, rather a transparent effusion of a maestro singing paeans of another master craftsman!
He was indeed a simpleton and a genuine human being which brought about the earthy greatness in him. With no frills and airs about himself, this diminutive doyen would make others at peace within no time. My second encounter with him was when doing a stint with an airlines, I was asked to look after a CIP (Commercially Important Person) and handed over a list of some names. Incidentally, all names were followed with Rafi tags. For a moment, I wished it was him only.
And it did happen. After all the Rafis landed and I received them, the last one was Mohd.Rafi. And my attention zeroed on him. He could gauge that. After exchanging gentle pleasantries, again in Punjabi, both of us started looking for their bags. While his family stood in a corner, it was Rafi Saheb and me matched the tag numbers and had them loaded. I could feel that he was no more a revered singer or a star here but a caring husband and a doting father much oblivious of the appreciative looks he was garnering there!
Much later, while trying my destiny in the film industry, I became part of a set up in the Famous Studios, Mahalaxmi. A floor above us was the office of Shankar Jaikishan. While Jaikishan was no longer alive, Shankarji was all alone and low. But he would regularly come to his office. Soon I got acquainted with him and came close. He started calling me to his chambers. He would narrate us anecdotes about people he worked with and it was interesting to be part of those private talks. On one such meetings along with my friend, my friend told Shankar sahib that I sang well. I used to sing but for my friends and the bathroom… though tuneful but very amateurish.  Shankar sahib goaded to sing few lines when my friend butted in that I sang Rafi extremely well. While I was preparing and humming few lines, suddenly the door opened and entered Rafi sahib… it was like a typical scene lifted from any of the Hindi films. I was dumbstruck. Thank God, I had not started… When told about the goings on, Rafi sahib too started requesting me! But could I say any thing before the maestro…I lost my nerve, confidence and heart beat… "Gaate raho, dil se hamesha…" he said. We all laughed.
The rare quality epitomizing culture, tradition, class, mastery laced with genuine gentleness is not to be seen anymore.  Whenever I see series of musical shows taking place on television and elsewhere these days, I miss the quality and range, I am so used to but as he said in our last meeting, Gaate Raho, Dil se Hamesha….. That was Mohammad Rafi.